This week Rachel and Alison are celebrating the 100th FF post and they are hosting a Giveaway Hop (original post here). As part of this special hop I am featuring the wonderful

Nereyda from Mostly YA Obsessed.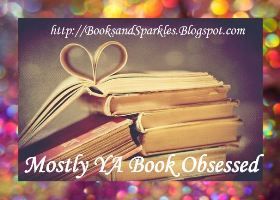 When did you start blogging?
After months of procrastinating, I finally decided to start my own blog on December 5, 2011. I've been blogging for 6 months and I absolutely LOVE it!
What is your favorite part of book blogging?
Discovering other blogs, discovering new books or books I haven't heard of and hearing other people love the same books I do.
What is your favorite book/series?
Wow, what a question! Even though I read mostly YA, my absolute favorite author is Rachel Gibson. Richelle Mead is so close to being my favorite too! My other favorites include Jennifer L. Armentrout, Becca Fitzpatrick, Jana Oliver, Cassandra Clare and Chloe Neill. I have WAY too many favorite books to name!
Please answer this question in the comments!
What is your most awaited book for 2013?
My most anticipated read for 2013 as of right now is The Collector by Victoria Scott. Have you seen the cover?!
Now for the giveaway! You must follow both Reading with ABC and Mostly YA Book Obsessed. Please complete the Rafflecopter form below for a chance to win any book of your choice from TBD (please make sure they deliver to you) for up to $15 in value. Good luck and thank your for your visit and support :)
a Rafflecopter giveaway